Equestrian school: classes of initiation, improvement, dressage, equestrian jumping, cross country riding ...
Whether you want to learn to ride a horse in Madrid or if what you need is to improve your technique, in Hípica El Madroño you will find equestrian classes for you: initiation, improvement and competition. In our academy, we teach dressage classes, equestrian jumping classes and Cross Country Riding ... for adults and children.
If you want to obtain the official titles, we can prepare and examine you for the galloping exams (Spanish title necessary for the competition in Spain).
Learning to ride a horse is very easy in our equestrian school!
We select very docile horses so you can start in this exciting sport with total peace of mind and security We frequently organize social competitions and attend social competitions of friendly, territorial and national schools.
Our professors are qualified and have extensive experience.
We are very close to your home: just 30 minutes from the center of Madrid and just over 15 minutes from Alcorcón, Móstoles, Fuenlabrada, Navalcarnero, Majadahonda, Villanueva de la Cañada, Boadilla, Pozuelo or Las Rozas.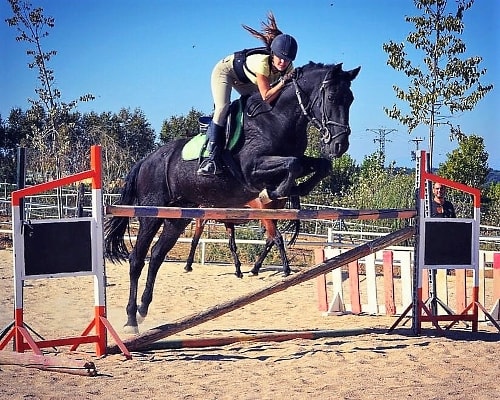 Wouldn't you like it?
business hours:
We open new group classes in English on Tuesdays, Thursdays and Fridays in the afternoon, on Saturdays and Sundays in the morning.
Prices
Enrolment: It is not necessary!. If you want to come to class regularly, you simply must be federated.
• Group classes (one hour) - 10 group classes: 200 €.

• Individual classes (half an hour) - 10 group classes: 400 €.